Well I am currently on level 14 and am growing my three Flora Praecocia flowers. I used the ultimate spreadsheet to figure out what pots to use, and I must say it made my life so much easier. I also grabbed 4 love flower seeds before they left the shop, and I think the fruit is one of my favorite so far. All the hearts are sticking around until my Praecocia fruit, then I'll harvest all of them as well.
Here's what my garden currently looks like:

Last edited by Laura on Mon Mar 09, 2009 7:26 pm; edited 1 time in total
I hate Valentine's Day (even though that's when I got proposed to, *squeeeeee*). But my garden was decked out wonderfully for the occasion.
Here is my garden about a week before Valentine's Day.
I almost left the fruiting bonsai until Vday, but then I remembered I was impatient, and I had spent a lot of DD to get it to fruit early, so I harvested.
Here is my garden on Vday.

The orange didn't look too bad. And I'm glad I DD it a lot too so that it wasn't a scraggly little bush on Vday.
Haven't posted about my garden in a while, so here's a little catch up. This is what my garden looked like when my first Easter Bunny was spotted:
April 12, 2009

And here's the bunny: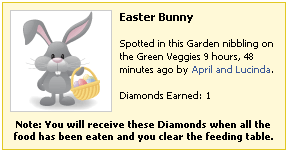 ---
Here is another update of my garden:
April 17, 2009.

Here is the tortoise that I spotted: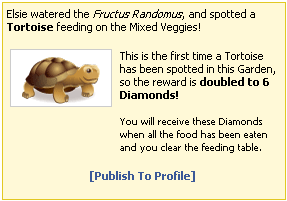 ---
Permissions in this forum:
You
cannot
reply to topics in this forum